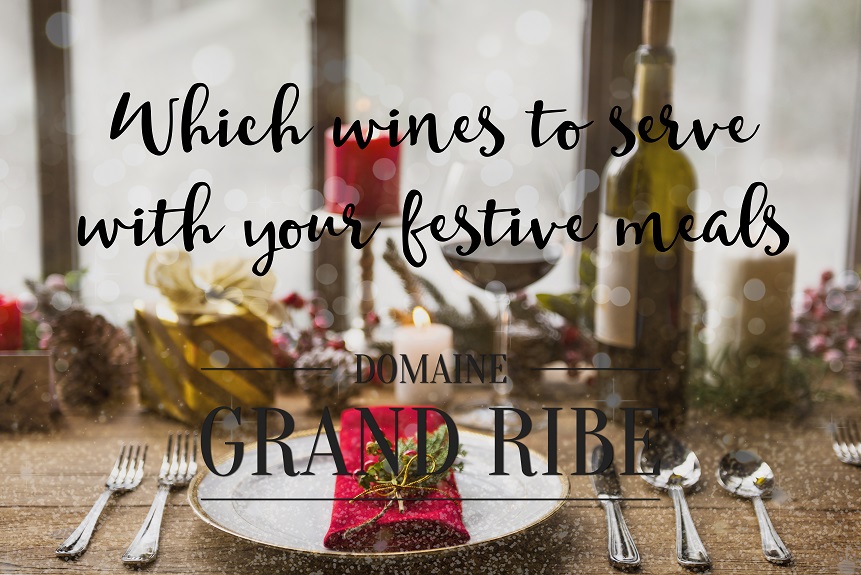 New year's eve is fast approaching and you are certainly wondering which wines to serve with your festive meals?
To amaze your senses and offer the best food and Christmas wine pairings to your guests, we give you some tips on which wines to drink to enhance your dishes and make them even more festive.
Which food and wine pairings are best for your Christmas appetizers ?
After having whetted your guests' appetite with a glass of champagne or sparkling wine, offer a dry and light white wine, but lively in the mouth, for a perfect match with your festive starters made with smoked salmon, seafood, oysters or shellfish.
The soft texture of a pan-fried scallop will perfectly match the Côtes-du-Rhône Villages Rochegude White GRAND RIBE whose round and ample mouthfeel supports aromas of white fruits for a beautiful freshness and great persistence.
Prefer to serve a foie gras on toast with a slightly sweet white wine or surprise your guests by choosing a powerful red wine to accompany a fried foie gras.
What wine to drink with your meat and poultry at Christmas ?
To accompany your poultry dishes such as Christmas capon, turkey or duck, prefer a light red wine just like the Côtes-du-Rhône Red GRAND RIBE, supple, fleshy and full of freshness, whose fruity notes will perfectly enhance the festive side of these dishes.
A red wine, powerful, generous and expressive such as Côtes-du-Rhône Villages Sainte-Cécile Cuvée Cuvée Century Red GRAND RIBE will be the perfect cuvée to serve your pheasants, quails, deer, wild boars and roe deer and exalt your taste buds (and those of your family!).
The taste of your game will only be enhanced.
Serve your ribs of matured beef cooked on embers with an expressive and robust red wine such as Côtes-du-Rhône Old Red Vines GRAND RIBE. Its notes of spices, jammy red fruits and fine tannins will be the perfect food and wine pairing with your red meats.
What to drink with cheese and dessert for your festive meals ?
For a varied cheese platter, it is advisable to open a bottle of dry white wine such as Côtes-du-rhône Villages Rochegude GRAND RIBE, which will be a perfect match for goat cheese, pressed cheese or soft cheese. Combine a brie with truffles and a fine red wine in the image of Côtes-du-Rhône Villages Sainte-Cécile GRAND RIBE for an explosion of flavours on the palate that will delight your guests.
The best food and wine pairing with a dessert or a Christmas log will be a sweet white wine or a clairette. 
You will pleasantly surprise your friends and family by serving a Côtes-du-Rhône Villages Sainte-Cécile GRAND RIBE to accompany your chocolate desserts!