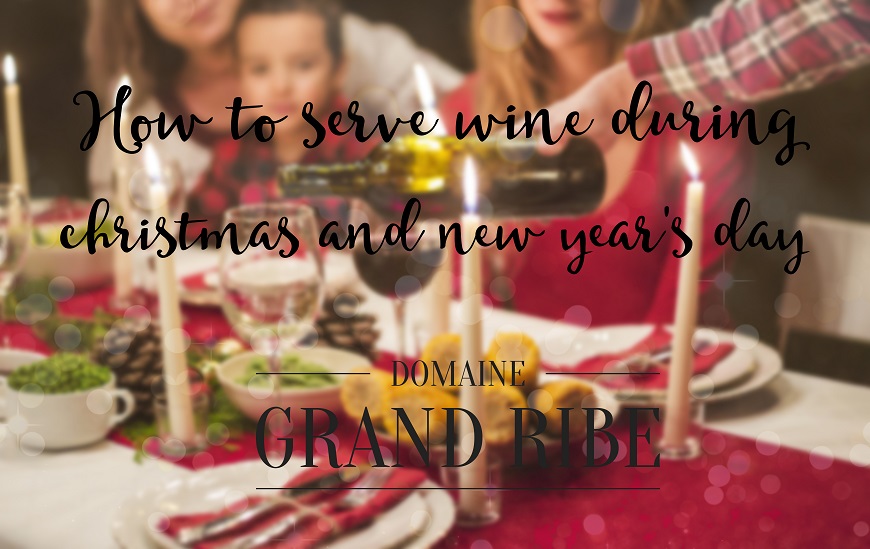 When to open a bottle? At what temperature should red or white wine be served ? 
Should you serve wine in a decanter and which wine glass to choose for festive meals are all questions you should ask yourself as Christmas approaches.
We answer you and guide you on the rules to respect in order to serve the wine in the best conditions.
The choice of glass for a wine tasting is a decisive step.
A thin glass will enhance the aromas of your wine: choose a glass with a wide bottom to air a red wine and choose a glass with a narrow bottom that will better preserve the aromas of a white wine. Choosing a wine glass with a tight upper part allows you to preserve its aromas and better understand its character.
The order of service of the wine at the table follows 2 rules: never "regret" the previous wine and respect a logic of "crescendo" concerning the alcohol, the power and the sweetness of the wine.
A light wine will be drunk before a full-bodied wine, a white wine will often precede a red wine (except for cheese) and a young wine will always be drunk before an old wine.
To know when to open a bottle, decant it or decant it to serve the wine in optimal conditions, it is necessary to understand that the wine continues to evolve under the influence of oxygen once the bottle is opened.
The older the wine, the faster it will evolve as soon as the bottle is opened. However, a red wine will evolve more slowly than a white wine. Thus, a powerful and young red wine will be opened 2 to 4 hours before serving, the vast majority of white and red wines will have to be uncorked 1 hour before and dry whites and old wines will be uncorked at the time of serving.
Decanting a young white or red wine will allow a better oxygenation, promote the release of its aromas and soften it. To decant the wine, pour it on the walls of a large decanter and put it to rest 1 to 2 hours before serving.
Decanting an old wine removes the deposit formed in the bottle by pouring it, just before serving, into a narrow decanter.
The ideal serving temperature for a red or white wine should be between 10 and 18° C so as not to distort it and preserve its aromatic richness.  The more complex it is, the more precise the serving temperature of a wine should be. Very tannic red wines will rather be served at a tasting temperature between 16° and 18°.
On the other hand, serving a powerful red wine in Côtes-du-Rhône such as the GRAND RIBE Côtes-du-Rhône Villages Sainte-Cécile Cécile Cuvée Century Red or the Côtes-du-Rhône Old Red Vines GRAND RIBE will require a temperature between 13° and 15° for a wine that reveals its character and vivacity. Younger red wines will be pleasant between 12° and 13°.
To accompany your shellfish and fish during the christmas, favour a serving temperature of fruity white wines such as Côtes-du-Rhône Villages Rochegude GRAND RIBE between 11° and 13° and between 6° and 10° for dry white wines.
When serving wine at the table, fill your guests' glasses to a third party to ensure a good diffusion of aromas and hold your glass by the foot to avoid heating the wine.
You will keep your wine at the right temperature by storing your bottles in a bucket with cold water and some ice cubes.
To keep a bottle open, it must be protected against oxidation.
An airless pump can be used to store the wine after opening but it is preferable to consume the bottle within a few hours after it has been opened.
To learn more about the food and wine pairings of your festive dishes, check out our tips on which wines to serve at Christmas.